*(For Archival Purposes Only)* Apple takes a vacation in another user's desktop, but little does he realize an icon war is waging!
NOTICE: These videos were based on the classic Computer Showdown originally created by Computer Clan. For entertainment and archival purposes only—they do not reflect the opinions of the creator. Any third party images used belong to their respective owners.
What you're watching is the fourth (and the most popular) episode of Technology Showdown, an homage to the classic Computer Showdown series.
Back then, I was a huge fan of the Computer Showdown series, so much so I wanted to do an HD remake of the first five episodes (not including the very first one that was more of an RPG-style battle.)
After the release of the first three shorts, I decided to start work on what would be my most ambitious project at the time: A remake of the Computer Showdown Icon Wars episode. But rather than just remake it scene-for-scene, I decided to go all-out on it:
This was the first episode to start with a "Previously on…" trope that recaps the events of the third part.


The voice acting was improved upon compared to the previous episode…though not by much.


This episode has live-action cutscenes, where a user named Bob uses a Dell Latitude D830 laptop running Windows XP—I still own that laptop to this day,

and I even did a whole episode on it

for the first episode of my Savvy Sage show.


This was the first episode to introduce the Virus Maker character, voiced by MacInTalk Ralph.


Finally, the visuals and action scenes were upgraded from the original—there's My Computer firing CDs, Internet Explorer flinging Removable Drive across the screen, Movie Maker unleashing his filmstrip attack, and so on—much of it still holds up today. (Well…okay, aside from the animation errors like the infamous "Recycle Bin" one.)


Technology Showdown: Icon Wars was pretty hyped up when it first came out, but little did I realize how big it would actually get—Icon Wars was not only well-received by Computer Showdown fans, but it would go on to become my most popular video of all time, with over 420,000 views on YouTube and counting.
However, that drastic increase in viewership would not come until WAY later… In the meantime, I was already hard at work at the final episode of the so-called "Season Zero"…but that's a story for another time.
If you want to learn more about the history of Technology Showdown, check out my Savvy Sage episode on it…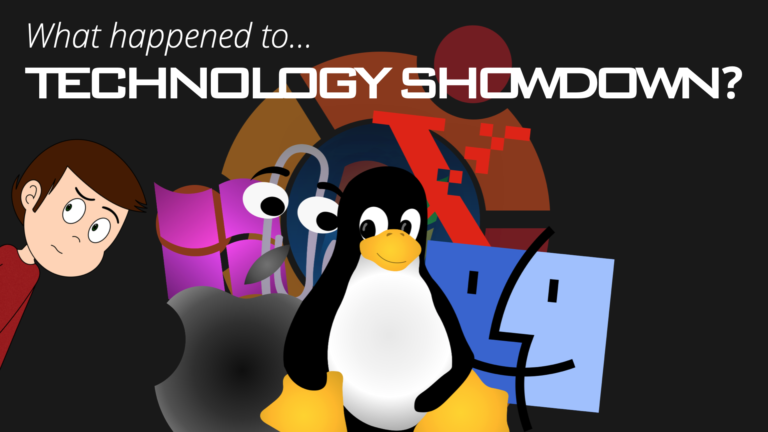 Bonus Feature: Icon Wars Re-Edit
In this 10-minute short film, a Windows computer from 2007 (which had its operating system downgraded from the then-recently released Windows Vista) comes to life after the user steps away from it, but it soon accidentally escalates into an icon war.